Maoyū Maō Yūsha 1x11
You're just destroying and killing, without creating anything.
As Young Merchant and Fire Dragon Princess learns that Central intends to install a new currency to prevent inflation, Winter King and Hero are informed an army lead by the Blue Demon clan has emerged from the portal to the Demon Realm and intends to attack from the south. Hero departs to confront the Blue Demon clan alone, allowing the Southern Alliance to focus on the incoming invasion from the north and much to his surprise, he reunites with Female Magician on the way there. Meanwhile in the Demon Realm, the Queen emerges from the chamber possessed by the spirits of the ancient Demon Kings and Chief Maid manages to push her back inside, despite having her right arm cut off by her. Young Merchant, accompanied by Fire Dragon Princess exposes to Merchant Youngster his intention to have the Southern Nations establish their own currency and extend the Merchant Alliance trade with the Demon Realm.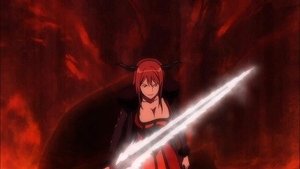 Mar. 23, 2013