Maoyū Maō Yūsha 1x12
I'm back, My Hero. You sleep too much, my Demon King.
Hero and the Queen are finally reunited after she manages to keep the ancient spirits at bay and regain control of her body. Female Magician appears before the Winter King and delivers him instructions from Crimson Scholar to develop a vaccine for Smallpox and reveals that reveals herself as a demon. Crimson Commander invades the press building and attacks kill Elder Sister Maid, believing that she is Crimson Scholar, but she is rescued by Warrior Youngster who confronts the invader and have him fall to his death. After restoring Chief Maid's arm, Hero explains the situation to the Queen. Meanwhile at the surface, with their horses sick, the Central Army is stationed with their leaders arguing about the yet unclaimed spoils of the war, until a mercenary force makes the first move. Female Knight leads the battle to quickly defeat the mercenaries, and with the arrival of winter, the Central Army is forced to retreat.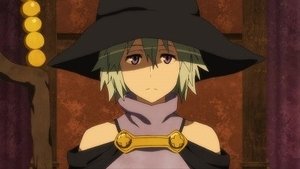 Mar. 29, 2013